CLARITY
 NEWS FLASH! DIAMOND CLARITY IS OVERRATED!
Why am I saying this? The reality is that a Diamond Clarity of lower grade that is eye clean  looks the same to the naked eye as a flawless stone.   When magnified by 10 times its visible yet how does that translate into the real world.  The only time you will see a diamond like that is in a store when they are trying to upsell you.  The human eye doesn't work that way.  As a result, I feel your money is better spent on other attributes like carat, color and cut.
Now don't get me wrong.  I am not advising to buy an ugly flawed diamond.  Just there are certain rules to follow to maximize your budget and get more for your dollar. There are plenty of ways to acquire a gorgeous diamond that has a low clarity grade.  So please read the following tips below. Feel free to reach out by clicking HERE.  If you have any questions or wish for me to evaluate any diamonds for you just drop me a line.

DIAMOND CLARITY TIPS WHEN ENGAGEMENT RING SHOPPING
SI1 IS A SAFE STARTING DIAMOND CLARITY GRADE. 

I would argue that an SI1 clarity grade will get you a beautiful looking stone most of the time.  Depending location of inclusion(flaw), color and severity, you can get away with a SI2 and even sometimes get an I1(rarely) that looks great.  Always start with the SI1 then add the other variables of the 4 C's, color carat and cut. If you find a stone in your budget then boom! You just saved some money.  Then venture into a SI2 territory and adjust your variables.  Are you able to get a bigger stone with better attributes?  Does the stone appear eye clean(human eye cant see a flaw)? Then I say go for it!                                                                                                                                                                                                                                                                                                                                                                                               If dropping clarity awards you a higher color or better cut grade then I see the value in it. Just be sure its Eye Clean.                                                                                                                                                                      Sites like James Allen has HD 360 viewing of every diamond on their site.   You can see diamonds zoomed in by 20x-40x.  This will give you confidence in your purchase.                                                                                 HERE IS AN EXAMPLE OF A 20X ZOOMED IN DIAMOND ON JAMES ALLEN                         

LOCATION OF THE DIAMOND FLAW IS KEY. 

Imagine stumbling into a great deal.  Price to good to be true.  You take a look at the stone and there is a black spec right in the center.  Your heart sinks and it quickly becomes obvious why the price was so cheap.  Now imagine that same inclusion(imperfection) on the right corner.  Same clarity so price should be close to the same except you cant really see the flaw anymore.  Especially if you place a prong from your engagement ring right on it. Take the example images below.                                                                                                                       This is a 1.40 carat F color SI2 clarity True Hearts Ideal Cut Diamond.   Every attribute of this diamond is perfect minus the clarity.  But the biggest flaw is on a corner.  You can save and place a prong right on top to help conceal the flaw.

DIFFERENT DIAMOND SHAPES EFFECT DIAMOND CLARITY.  

Lets take a round diamond. A round stones shape, number of facets and generally small table(TOP OF STONE) hides clarity imperfections best in my opinion.  You can find SI1-SI2 clarity stones and be 100% happy with how beautiful it will look.  Opposite is an Emerald cut diamond.  You can literally see through an Emerald diamond due to its shallow form and long straight step like cuts.  A lower clarity Emerald diamond stands out and its usually recommended you go VS2.  You may find a SI1 Emerald that is great just depends on location and color of imperfection(WHITE OR BLACK).  Which leads me to the next tip.

USE ONLINE VIEWING TOOLS WISELY. 

BIG TIP, one of the reasons I recommend  James Allen is they offer images of every diamond for sale. Blue Nile is slowly adding photos to their inventory and probably are almost fully photographed.. Professionally graded diamonds are viewed under a loupe with 10 times magnification.  James Allen and Blue Nile magnify them 20 times.                                                                                                                                                                           Imperfections can look massive as a result. Its great for shopping Diamond Clarity but It can also be intimidating. Causing you to doubt yourself.  Know that you can also zoom out.  This helps to see a more realistic view of the stone.  So grade the diamond critically, followed by zooming out for a more realistic view. You might just say wow that looks great when you zoom out.
SAMPLES OF DIAMOND CLARITY
Take a look at this sample found in the 4 C's of Diamonds page for example of Diamond. You will see illustrations of different grades plus a comparison you may find interesting.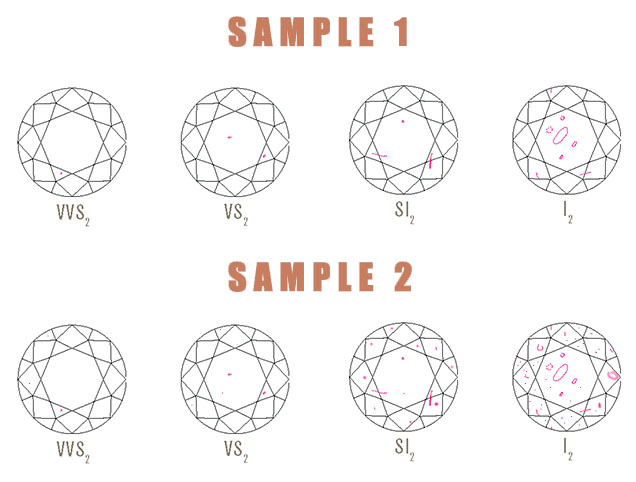 Sample 1 has 4 examples of grading done. The pink circles indicate imperfections in the stone. Sample 2 has more flaws but the same grade. How can that be?  Let me explain.  The biggest flaw found on a diamond is usually what gives its clarity grade.  I find this important to bring up because as you start shopping you will notice stones that have more inclusions than others but have the same grade. 
Some Diamond Clarity Inclusions have different sizes, color and shapes. Some are clear and some are black, some twirl and engulf the stone like clouds.  If you are buying and want to have value SI1 is the way to go.  Almost always have a beautiful look that's eye clean.  VS1 is a great choice. However  you can see here you wont see the difference unless you are trained to view it under a loupe.  Here is a real life sample of this.
REAL LIFE EXAMPLES OF DIAMOND CLARITY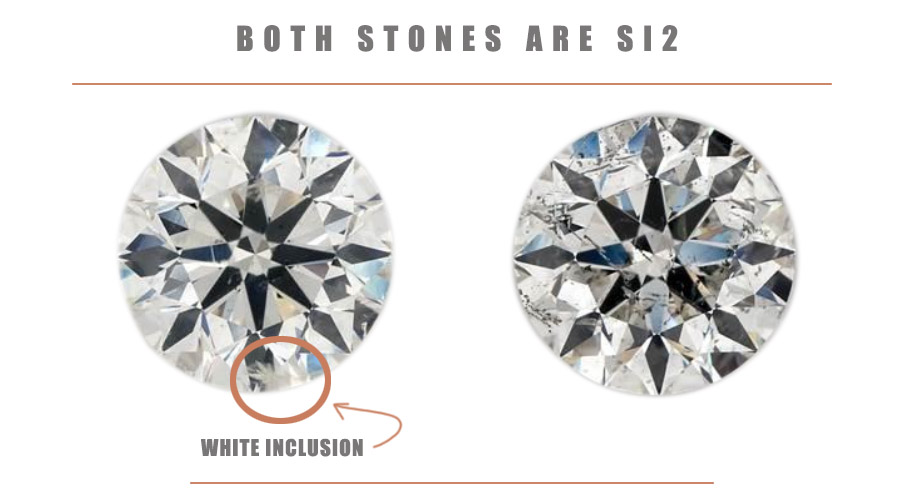 Both stones have a Diamond Clarity of  SI2 yet look drastically different. The stone on the left has a large white inclusion  which is what sets the grade. The stone on the right has many black inclusions about the same size as the white.  Therefore it gets the same grade. If someone is getting a SI2 or I1 stone you must see an image of it. That's why I love buying Diamonds online in websites like James Allen, Blue Nile and Brian Gavin . They have images of stones so you can buy with confidence.  PS. The stone on the left is great because you can mount it with the prong on top of that corner inclusion further hiding any imperfections.
CONCLUSION
In Diamond Clarity, SI1 is the highest I would personally go.   By all means, if you have a large budget, go for a higher quality if you wish. BUT will it be impactful.  Your money may not be spent wisely because you may not see the difference.  With money saved by choosing a lower clarity, I would look for a larger stone with a better cut/shape.  My fiance would see the benefits of those attributes.  If you wish to venture into SI2 or I1 clarity.  Just remember the tips to find the right diamond in the rough.   Buying retail can be 25%-75% more expensive.  Use the power of the internet to your advantage and save.
Recommended Places To Buy
For me to recommend any business, they must meet certain criteria. They must prove valuable to my clients in regards to How to buy a diamond savings and selection | EXPECT 20%-40% LOWER PRICES THAN TRADITIONAL JEWELERS |, time doing business(legitimacy), reputation, and return policy.

James Allen  is my favorite vendor.  They revolutionized the ability to get the clearest image of a Diamond with a 360 degree HD image/video and a zoom in up to 40x on all their Diamonds. This without question leaves no doubt on what you are buying.  I argue the ability to see your diamond more clearly than in a physical retail store is a massive plus for you.  They have incredible prices that I will easily  beat retail store pricing.  They have an a amazing 30 day Free no hassle return policy and have been in business for over ten years with countless positive reviews from real customers. The only Con is they are slightly limited in the search filtering ability. Blue Nile  has a deeper way of filtering certain attributes.  Click on this link or Picture to search their inventory.

Blue Nile was the original online giant that opened in 1999! They probably have the largest selection. In the past they didn't have images of their inventory but because of James Allen , they were forced to adapt and they now have a large amount of their inventory with images.  There viewing technology is not as good as James Allen  but its still clear and one can evaluate a Diamond with confidence.  Blue Nile  has an incredible 30 day free return policy as well that is insured.  The only Con is they do not have AGS certified goods on their site.  This isn't an issue for round diamonds but very helpful with fancy shapes like Princess, Cushion, Oval etc… Click on this link or the Blue Nile Logo to see their inventory.

Brian Gavin opened in 2009. He is a 5th generation Master Diamond Cutter. He is an authority when it comes to crafting Hearts & Arrows Diamonds and is well respected in the industry.  The company sells reasonably priced diamonds.   An excellent brilliant Cut grade is the focus of Brain Gavin and its his biggest PRO.  Many stones are AGS Certified with excellent cuts and this is helpful with fancy cut diamonds(Princess, Cushion,Emerald, etc).  A negative  is a 15 day return policy. Most will prefer more time however its still a respectable amount of time.  A client should know quickly  if  pleased with a purchase. There are also some exceptions to certain custom work. Feel free to dig deeper in the about section of his site as it may not apply to your purchase.  Click of the Brian Gavin Logo or this link to see their site.
---
Feel free to reach out and send me a message. Do you want buying advice on How to buy a diamond or have you found a stone you wish for me to evaluate. Feel free to drop me a line and say hello. Advice is free.