Diamond Prices
1 carat E color VVS1 clarity Diamond
for $8,664 compared to this
1 carat  I color SI1 clarity diamond
for $4,971.  Can you see any difference between the two.  This is a $3,500 difference yet the same carat weight.  This article is prevent you from over spending on attributes that wont be appreciated.
Diamond prices are calculated using the Rapaport Price List.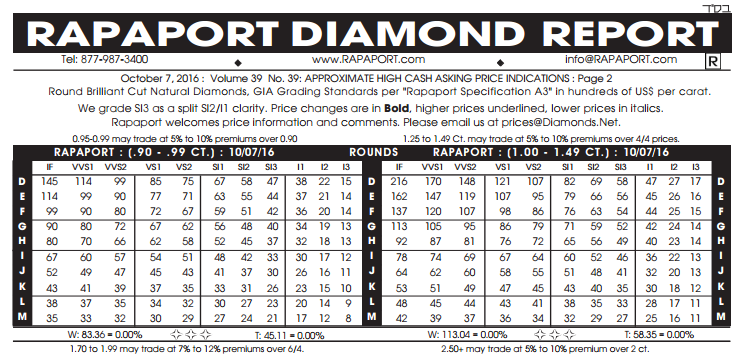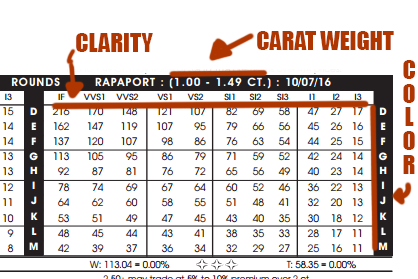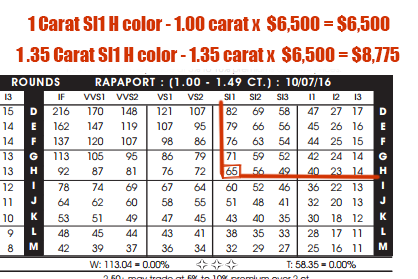 diamond prices examples above
Carat weight is on the top bar and color is on the side. As show above, to find say the value of a 1 carat range SI1 clarity H color you must run a line accross till there pathes meet.     To calculate these prices you must multiply the carat weight.  1 carat is the easiest of course because it literally equals what is listed.  a 1.35 carat is multiplied by the $6,500 rate + 8,775 vs the 1 carat $6,500.  This is how you calculate the prices.  This is the pricing  you typically see at retail stores.
Very Important! Please notice the lines separating certain blocks. For example colors D,E, and F are in one bracket   – G and H in another. VS1 and VS2 are in a separate bracket and so on.  Each of those brackets represent a price jump some more dramatic than others.
different shapes have Diamond Pricing
Above is a sample of round diamond pricing but that doesn't carry over to princess cut diamond pricing.  Take a look at this 1 carat SI 1 clarity H color Princess cut diamond for $3,340 vs   this Round 1 carat SI1 clarity H color Diamond for $4,610. Many dont under stand why but the reason is simple.  A diamond unpolished is called diamond rough.  It looks much like a rock.  To cut and polish a diamond, different shapes leave more unused diamond waste.
Visit this link  to see a great article from Blue Nile on how Diamond Prices and shapes differ.
Recommended Places To Buy
For me to recommend any business, they must meet certain criteria. They must prove valuable to my clients in regards to How to buy a diamond savings and selection | EXPECT 20%-40% LOWER PRICES THAN TRADITIONAL JEWELERS |, time doing business(legitimacy), reputation, and return policy.

James Allen  is my favorite vendor.  They revolutionized the ability to get the clearest image of a Diamond with a 360 degree HD image/video and a zoom in up to 40x on all their Diamonds. This without question leaves no doubt on what you are buying.  I argue the ability to see your diamond more clearly than in a physical retail store is a massive plus for you.  They have incredible prices that I will easily  beat retail store pricing.  They have an a amazing 30 day Free no hassle return policy and have been in business for over ten years with countless positive reviews from real customers. The only Con is they are slightly limited in the search filtering ability. Blue Nile  has a deeper way of filtering certain attributes.  Click on this link or Picture to search their inventory.

Blue Nile was the original online giant that opened in 1999! They probably have the largest selection. In the past they didn't have images of their inventory but because of James Allen , they were forced to adapt and they now have a large amount of their inventory with images.  There viewing technology is not as good as James Allen  but its still clear and one can evaluate a Diamond with confidence.  Blue Nile  has an incredible 30 day free return policy as well that is insured.  The only Con is they do not have AGS certified goods on their site.  This isn't an issue for round diamonds but very helpful with fancy shapes like Princess, Cushion, Oval etc… Click on this link or the Blue Nile Logo to see their inventory.

Brian Gavin opened in 2009. He is a 5th generation Master Diamond Cutter. He is an authority when it comes to crafting Hearts & Arrows Diamonds and is well respected in the industry.  The company sells reasonably priced diamonds.   An excellent brilliant Cut grade is the focus of Brain Gavin and its his biggest PRO.  Many stones are AGS Certified with excellent cuts and this is helpful with fancy cut diamonds(Princess, Cushion,Emerald, etc).  A negative  is a 15 day return policy. Most will prefer more time however its still a respectable amount of time.  A client should know quickly  if  pleased with a purchase. There are also some exceptions to certain custom work. Feel free to dig deeper in the about section of his site as it may not apply to your purchase.  Click of the Brian Gavin Logo or this link to see their site.
---
Feel free to reach out and send me a message. Do you want buying advice on How to buy a diamond or have you found a stone you wish for me to evaluate. Feel free to drop me a line and say hello. Advice is free.