The first task to complete in this journey is finding out what Diamond Shapes you are going to buy.  If you're lucky enough to know; that is one less thing to be stressed about.  If you are unsure then hopefully this guide can shed some light on your concerns.  Read on to learn what attributes to look for.  If you need any advice click on this link to contact me.
SCROLL DOWN TO FIND YOUR DESIRED DIAMOND SHAPE
DIFFERENT DIAMOND SHAPES
ROUND DIAMOND: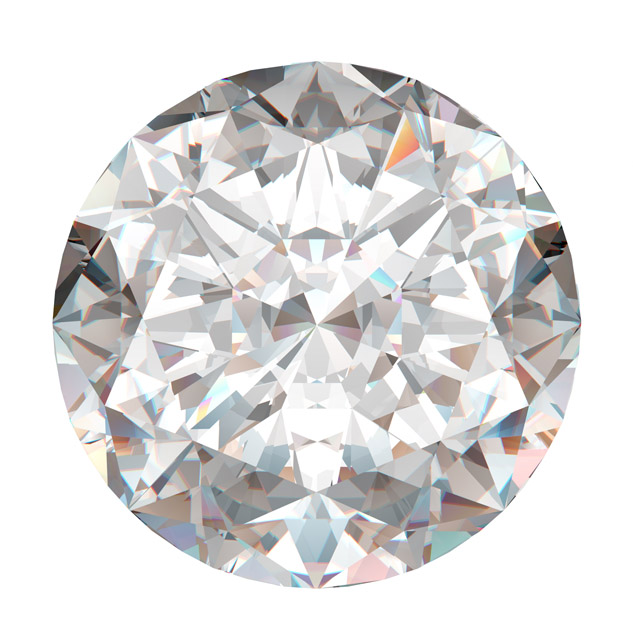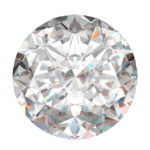 Considered KING when it comes to brilliance.  Original round brilliant-cut was developed by Marcel Tolkowsky in 1919. The modern round brilliant consists of 58 facets.  The  Round Diamond is King in terms of the popularity of Diamond Shapes. Known to be the diamond with the most brilliance, fire and sparkle, its no wonder why it's loved.  It's classical and timeless. The diamond's CUT grade impacts this diamond shape the most. In addition, its know to be pricer than other cuts due to 50% of the rough being utilized to create it.  But, It's also a diamond shape that hides clarity imperfections and lower color best.  Of all Diamond Shapes, Round is the most popular.
BUYING TIP– Look for a length to width ratio of 1.00-1.03.  Remember rounds hide imperfections and lower colors best. Buying the Diamond Shape round with a grade of very good is still a beautiful diamond. Excellent is of course ideal and sometimes doesn't have such a high premium.  Cut is king so if your gonna stretch a budget, cut is the thing to do it for.
Premium Selections?
Each site has a premium round.  I would say with proper homework you can find a beautiful round diamond outside of these prime selections.  Consider these no guesswork, hand picked selection for ideal cuts.
James Allen sells the Ultimate in Diamond Brilliance, look for a Hearts and Arrows True Hearts Diamond.  Seen from above, a Hearts and Arrows diamond shows an arrow pattern. When displayed on its pavilion side, the diamond presents the eye with 8 hearts with tiny 'v' shapes. Genuine Hearts and Arrows have these patterns visible at a single glance, indicating that the diamond has perfect optical symmetry.
What I love about James Allen is they provide actual photographs of all the True Hearts Diamonds.  You know when you go this route, you are getting the top of cut, symmetry, and polish for a reasonable premium.
Blue Nile has their Astor line.   Here is a link for a filtered Astor Round Diamond.  This is Blue Nile' s hand picked selection with triple excellent diamonds scoring excellently in Cut, Symmetry and Polish.  On their website it reads, "Exceptionally rare, only 1 in every 1,000 diamonds possess the potential to achieve Astor by Blue Nile™ status. They are curated and analyzed by two independent industry experts to unlock ultimate brilliance.". Sounds like a steal if the price is right.
I tell my clients, it doesn't hurt to compare your findings against a top tier selection. Sometimes the premium is slight which if it's in the case inside of budget, a perfect cut is the most valuable aspect of the diamond.  This is not the only way to find a beautiful diamond, it just takes the guess work out.
PRINCESS CUT: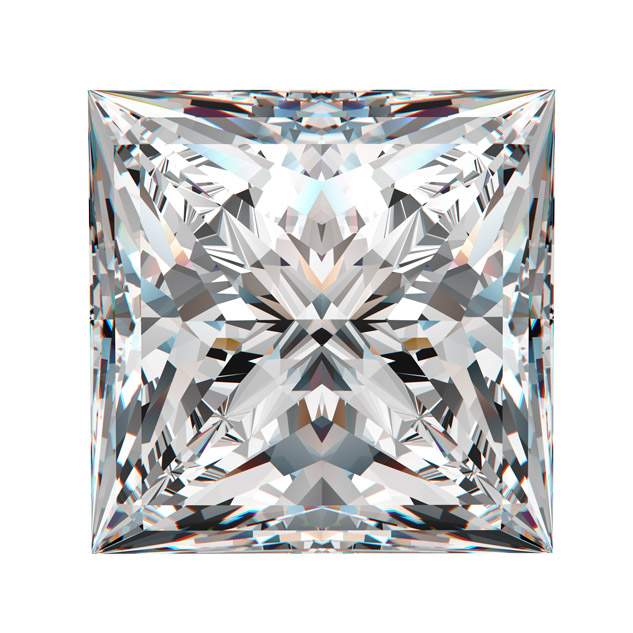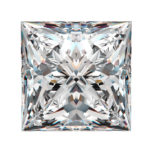 The princess cut is the second most popular cut shape for diamonds.  The princess cut is a relatively new diamond cut, having been created in the 1960s.   It is cheaper to buy than the round as the rough is utilized more. Compared to other diamonds in the same shape, Princess cut diamonds give out more brilliance and sparkle than the others.  Beware when purchasing.  BUYING TIP.  GIA CERTIFICATE DOES NOT grade CUT for the princess.  It's very important to use a company like James Allen  or Blue Nile that has detailed images of the diamond. A diamond with a good shape and sparkle will stand out.  The only certificate that grades CUT in fancy shapes like the princess is AGS .  Of all Diamond Shapes, Princess is the second popular.
Here are things to look for:
For Table Percentage, stay under 75%.  Avoid princess cuts whose table percentage is higher than 85% or lower than 55%.
A Depth between 65% and 75% for the best balance of brilliance to size.
Length to width ratio of 1.0-1.05.
Longer Rectangular Princess will be cheaper and may look better to you(subjective)
Hide lower clarity and color well.
Premium Selection
AGS  certification is the only trusted cut grade for Princess.  Click HERE, I  have created a custom search link in James Allen for Princess Cuts with only AGS certification.  Here you can ensure you have a great cut certified.  You can also ways play with search criteria from these sites under certification. It's not the only way to find a great cut.  Images help the buyer see the diamond sparkle.  You can always contact us by clicking here for search advice.
Brian Gavin has a selection of their personal collection they have cut themselves for Princess, all coming with AGS certification as Excellent cuts.  I would say this selection is Brian Gavin's biggest strength. Click HERE to find them.
OVAL CUT:
Oval-Cut Diamonds give a beautiful sparkle and style.  It's recommended you choose an H color to be on the safe side and Si1 clarity.  Occasionally you can find an SI2 that looks great but it's not too common.  The length to width ratio is equally important to ensure you have a classic oval shape.
One must evaluate an Oval diamond closely as it's not as simple as a round.  GIA doesn't classify cut grades for any shape other than round.  You will have to analyze the stone with other criteria.
Take a look and click on this link to view an oval diamond that has the same 4 C's but has a drastic difference in cut and looks.  Stone A    vs  Stone B   You can see the shape of the diamond is the most important feature, not the traditional 4C's.
FOR A FULL OVAL DIAMOND BUYING GUIDE CLICK THE BUTTON BELOW
OVAL DIAMOND GUIDE
CUSHION CUT: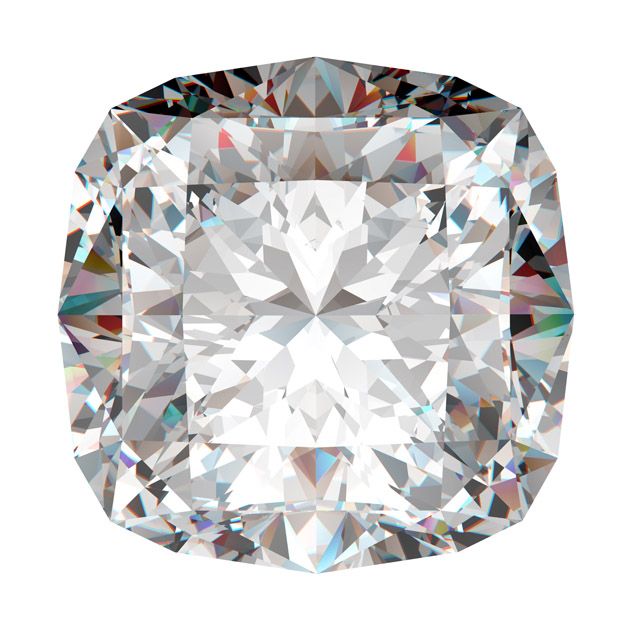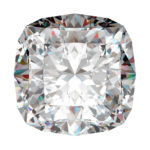 Growing in popularity, the cushion cut is known as the romantic stone.  Known for its sparkle in a candlelit setting.  Once referred to as old mine cut.  It combines a square cut with rounded corners, much like a pillow (hence the name).  Traditional cushion cut diamond shapes return light in a chunkier pattern than modern cuts.  I would say that the cushion looks amazing in a vintage style ring.  If vintage is your thing, the cushion is a winner.   They are not available in abundance, so online is the way to go.
Cushion cut in an ideal shape is bottom heavy.  When searching, find Cushions with a depth under 70% and a table under 70%.  Any depth over 70 runs the risk of extreme bottom heaviness.  Causing the diamond to go lifeless and appear smaller from the top view.  This is not to have you shy away from this purchase but that's just the nature of the shape.
BUYING TIP .
  GIA CERTIFICATE DOES NOT grade CUT for CUSHION DIAMONDS It's very important to use a company like James Allen  or Blue Nile that has detailed images of the diamond.
Here are things to look for:
Cushion-Cut Diamonds are usually square but can be rectangular as well.
This Diamond was made for a vintage style setting and compliments the look.
 Keep your length to width ratio of 1 – 1.06.  If the stone is on the long side, 1.15-1.30.
 You always want to see an image of what you are buying because proportions play a big role here.
Know that it will not look larger than a round.  An Ideal Cushion is likely a bit middle & bottom heavy. This will cause it to appear smaller from top view.
Cushion Cuts have a larger table-So don't go lower than SI1.  Imperfections are more visible. Color also shows strongly. H color or better.
Don't expect a super shiny brilliant diamond.  Cushion Cuts are not known for this.
Premium Selection
Since GIA doesn't give Cushion Cuts cut grades, I highly recommend clicking this link to Brian Gavin's Cushion cut hearts and arrows line.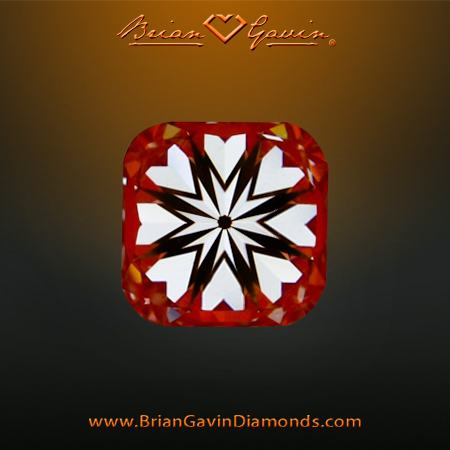 Its all AGS certified as excellent cut. Brian Gavin is a master diamond cutter that has created Excellent cut grades for Cushion, Princess and Emerald.
James Allen also allows you to search for AGS certified only stones.  Here is a custom search link only showing AGS certified stones.  Again, this isn't the only way as you can inspect cut with your eye or reach out to me here.  This way only takes the guess work out.
PEAR SHAPE DIAMOND: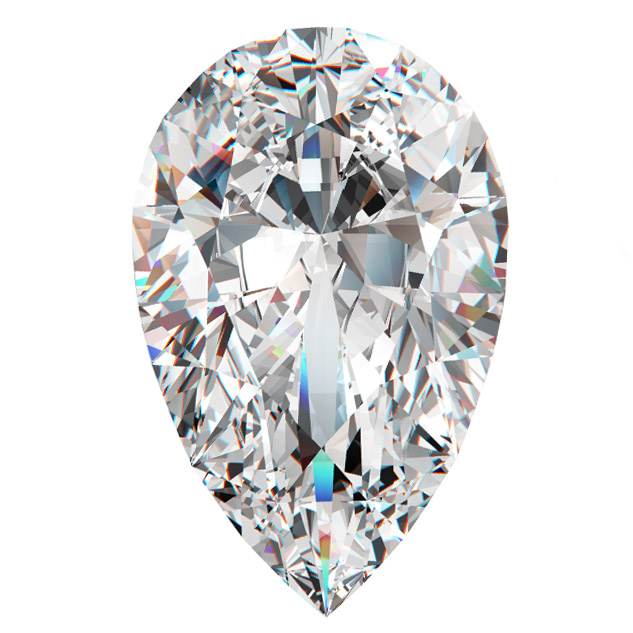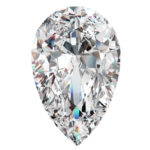 The Pear Diamond is so unique, often referred to as the teardrop shape.  Probably not the most popular but stands out.   It's probably one of my personal favorites.   Its different has a beautiful sparkle and gives a large appearance.   The pear is a combination of a round and a marquise shape, with a tapered point on one end.  Another big plus is it hides imperfections well like the round.  Color has to be H color or better.
Color starts from the tip of the diamond which is front and center to the eye. See the example of a J color.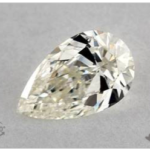 Length to with Ratio is a Huge factor in this shape.    Usually between a 1.50- 1.70 is considered ideal.  This is also Subjective.  To short and you have a stubby diamond. Too long and it looks like a skinny tooth.  See below.


As you can see, its vital to see a picture or detailed 360 image like James Allen or Blue Nile has when buying this shape.
WARNING- Look out for the Bow Tie Effect.  It's usually going to be slightly evident but you don't want a strong characteristic of the bowtie.  See the images below to learn why they call it the bowtie effect.
BUYING TIP: While the length to width ratio of classic pear-shaped Diamond Shapes is 1.40-1.70, personal preference will again dictate the choice.
things to look for:
H color or better, as stated earlier color shows strong from the tip.  Feel free to go to SI1-SI2 for the best value.  Try to not get any imperfections on the table of the diamond.
Depth Percentage should be under 66%
Table also under 66%

GIA

CERTIFICATE DOES NOT grade CUT for Pear Shapes. 

 Use a company like

James Allen  or Blue Nile that has detailed images of the diamond.
EMERALD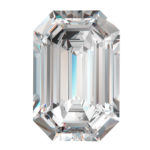 The unique look of The Emerald Diamond is created by the step-like cuts.  Its table is wide open and the diamond has a mirror effect rather than a shimmering diamond characteristic.  This diamond may not have a lot of sparkle, but its classy and elegant.
Length to Width is a huge buying feature to look out for.  a 1.50 is considered the ideal length to width ratio, however, the 1.30 l/w is starting to get popular.  This goes down to personal preference. Take a look at the samples below for length to width ratios and how they change the appearance of the diamond.

As you can see, its vital to see a picture or detailed 360 images like James Allen or Blue Nile  when buying this shape.

BUYING TIPS
Brian Gavin has a Specialty Line Of Emerald Cuts with Excellent Cuts.  Worth investigating for a premium cut.  Emerald is not known necessarily known for there brilliant shine, but a perfect Diamond Shapes helps bring out the most from it.
Diamond Shapes all have their pros and cons.  Follow the following link to go deeper than Diamond Shapes and learn about the 4 C's.
Recommended Places To Buy
For me to recommend any business, they must meet certain criteria. They must prove valuable to my clients in regards to How to buy a diamond savings and selection | EXPECT 20%-40% LOWER PRICES THAN TRADITIONAL JEWELERS |, time doing business(legitimacy), reputation, and return policy.

James Allen  has the highest volume in diamond sales in the web.  They have industry leading diamond viewing technology.  I argue the ability to see your diamond more clearly than in a physical retail store is a massive plus for you. JA has incredible costumer service and just added Lab created diamonds to their inventory.
They have free shipping domestic + international – free ring resizing –  no questions asked money back return 30 days  – provides insurance appraisals –  lifetime warranty

Blue Nile was the original online giant that opened in 1999! They have the industry-leading largest available exclusive online inventory.  They have incredible prices and their images are catching up to James Allen.
No questions asked money back 30 day guarantee – Free shipping – Free ring sizing – Provide insurance appraisals –  Lifetime warranty – 100% future credit towards upgrades

Brian Gavin opened in 2009. He is a 5th generation Master Diamond Cutter. He is an authority when it comes to crafting Hearts & Arrows Diamonds and is well respected in the industry.    An excellent brilliant Cut grade is the focus of Brain Gavin and its his biggest PRO.
---
Feel free to reach out and send me a message. Do you want buying advice on How to buy a diamond or have you found a stone you wish for me to evaluate. Feel free to drop me a line and say hello. Advice is free.