COLOR
DIAMOND COLOR SCALE  &  BUYING GUIDE
The Nitty Gritty:  If you are buying a round diamond, then you are able to go as low as a J color with a great result.  Take a look at this G color diamond from James Allen   and compare it to this I color diamond.   That is about a $1,000 difference in  price for a quality that to a trained eye is so slight.  If buying a different shape than round, there are different rules.  Please feel free to reach out for guidance.  Color comes from the bottom so diamonds like pears and emeralds require a higher color due to their shape. 
LEARN HOW THE DIAMOND COLOR SCALE CAN DRAMATICALLY EFFECT PRICE

Diamond color is something not to take lightly.  Depending the type of gold color you are making your engagement ring/jewelry with, you can really take advantage of cost savings.  Below I have some tips to follow  as you are selecting your Diamond.
HOW TO PICK THE BEST DIAMOND USING THE DIAMOND COLOR SCALE
Some stones hide color better than others.  Let me explain-Diamond color starts from the bottom up. If you look at a round stone, the tip(which is pointing downward once mounted} is were the color originates.  Once you look at a diamond from the top the color is barely noticeable.  Please see example below.  With that said, round hides color very well opposite to the emerald.  The Emerald diamond is flat and clear.  Hiding color is much more difficult since the bottom and top are so close in proximity.   My Advice for choosing the best color depending what stone you choose.  Round: H-J  Color Grades. Princess, Emerald, Asscher: G-I Color Grades.Other Diamond Shapes: F-H Color Grades.
Choose a color in relation to your engagement ring setting. if you are choosing Platinum or white gold, then its best you stick with the G-J color scale.  If your diamond is on a yellow gold setting, it doesn't make a lot of sense to go white if the reflections of light off the gold ring will give it a yellow tone.  Best you stick with the J-M.  If Rose gold you can choose J-K and also save money.
Especially relevant,  a Diamond color under M is not recommended.    In the illustration below you will see samples of color. HOWEVER, when the diamond is facing up that color is harder to see.  Consequently, this is why I love that H-J color.  Again see my Color guide for tips best colors depending on what diamond shape you are buying.   See this example of a J Color Diamond mounted below.  Learn how Diamond Florescence can improve your J color diamond.
DO YOU SEE A LOT OF COLOR?
Below is a color chart showing color illustrations.

Most noteworthy, remember Color starts from the tip of the stone towards the face.  Different shapes can effect diamond color.  A round diamond hides color very well. In contrast when buying a Pear shape or Emerald, you must choose a higher color. See images below for example. For recommendations per shape regarding color, visit my Color page for deeper info.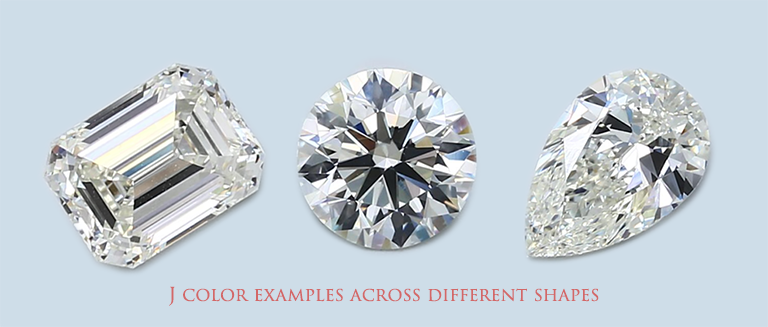 IN CONCLUSION
Diamond Color and Clarity are the two areas that you are allowed to choose lower grades.  Due to the H Diamond Color  looking the same to the naked eye as D color.  So why spend more?  Rather spend your money wisely.  Seems like your lady would appreciate a larger or better cut stone.  Oh your lady doesn't like big diamonds!  Marry her fast, she is a Unicorn :).
Recommended Places To Buy
For me to recommend any business, they must meet certain criteria. They must prove valuable to my clients in regards to How to buy a diamond savings and selection | EXPECT 20%-40% LOWER PRICES THAN TRADITIONAL JEWELERS |, time doing business(legitimacy), reputation, and return policy.

James Allen  is my favorite vendor.  They revolutionized the ability to get the clearest image of a Diamond with a 360 degree HD image/video and a zoom in up to 40x on all their Diamonds. This without question leaves no doubt on what you are buying.  I argue the ability to see your diamond more clearly than in a physical retail store is a massive plus for you.  They have incredible prices that I will easily  beat retail store pricing.  They have an a amazing 30 day Free no hassle return policy and have been in business for over ten years with countless positive reviews from real customers. The only Con is they are slightly limited in the search filtering ability. Blue Nile  has a deeper way of filtering certain attributes.  Click on this link or Picture to search their inventory.

Blue Nile was the original online giant that opened in 1999! They probably have the largest selection. In the past they didn't have images of their inventory but because of James Allen , they were forced to adapt and they now have a large amount of their inventory with images.  There viewing technology is not as good as James Allen  but its still clear and one can evaluate a Diamond with confidence.  Blue Nile  has an incredible 30 day free return policy as well that is insured.  The only Con is they do not have AGS certified goods on their site.  This isn't an issue for round diamonds but very helpful with fancy shapes like Princess, Cushion, Oval etc… Click on this link or the Blue Nile Logo to see their inventory.

Brian Gavin opened in 2009. He is a 5th generation Master Diamond Cutter. He is an authority when it comes to crafting Hearts & Arrows Diamonds and is well respected in the industry.  The company sells reasonably priced diamonds.   An excellent brilliant Cut grade is the focus of Brain Gavin and its his biggest PRO.  Many stones are AGS Certified with excellent cuts and this is helpful with fancy cut diamonds(Princess, Cushion,Emerald, etc).  A negative  is a 15 day return policy. Most will prefer more time however its still a respectable amount of time.  A client should know quickly  if  pleased with a purchase. There are also some exceptions to certain custom work. Feel free to dig deeper in the about section of his site as it may not apply to your purchase.  Click of the Brian Gavin Logo or this link to see their site.
---
Feel free to reach out and send me a message. Do you want buying advice on How to buy a diamond or have you found a stone you wish for me to evaluate. Feel free to drop me a line and say hello. Advice is free.