The right answer depends on you, the buyer, expectations and what you are comfortable with.  Thank DeBeer's and their marketing ploy in the 1930's for the 1 carat diamond ring and beyond. Linking diamonds with emotion and here we are today in a world full of expectations.   Knowing the expectations of your significant other is a good start. Their personality can give you subtle clues.  Is your significant other a simple, free-spirited hippy who loves walks on the beach and staying in.  Or rather an ambitious globe trotter with a thirst for luxury items.   Know their expectations to avoid negative vibes.
The average size hovers around a 1 carat engagement ring.  CreditDonkey conducted an independent survey across several major cities in the U.S.  The results we found were:
Los Angeles: 0.83 carat
New York City: 1.45 carat
Chicago: 1.29 carat
Dallas: 1.04 carat
Miami: 1.08 carat
More important is getting something you can afford.  This is supposed to be a symbol of love so don't go in over your head.  This leads me to the next topic.  How to buy smart and maximize your purchase.  Here are some great tips to get you to a 1 carat engagement ring and beyond.
---
Getting the best value
The 4 C's describe the buying criteria for buying Diamonds.  Cut is of the highest priority as it is the aspect that impacts the beauty of the diamond the strongest. A well-cut .90 carat will look like the same size as a decent cut 1 carat.  See the sample image below.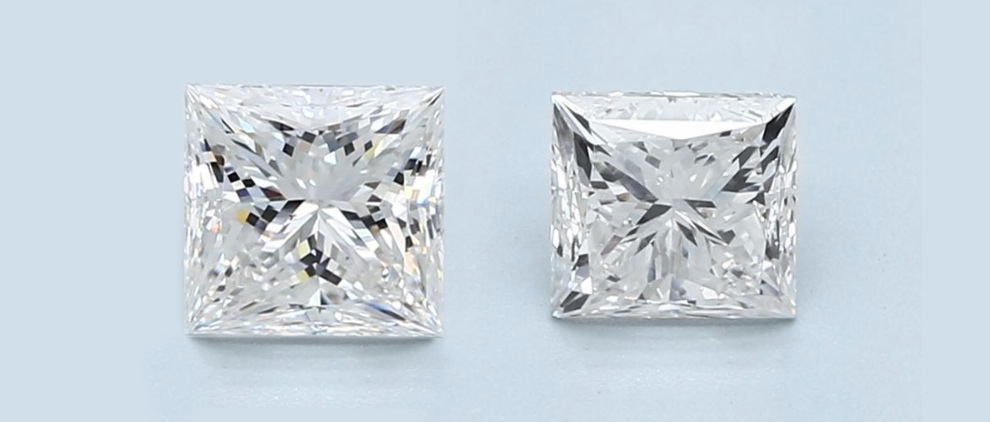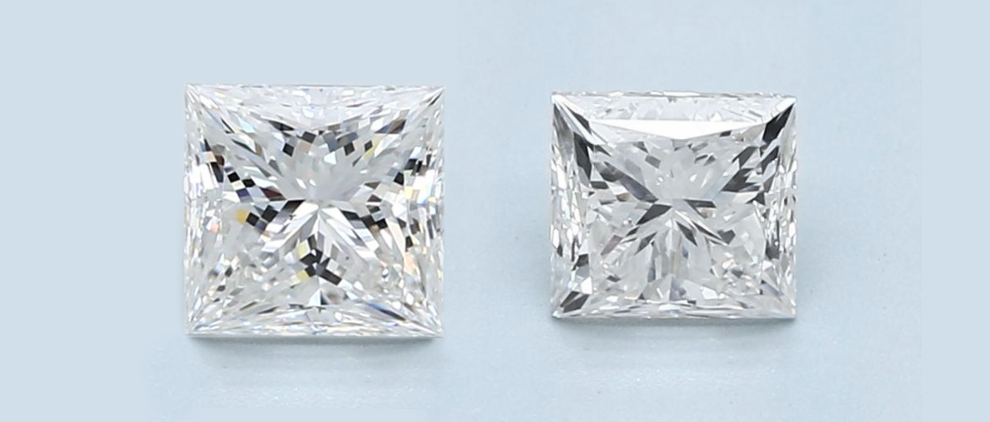 These two Princess cut Diamonds  are the same carat weight. Can you see a visible difference in size? Its clear the diamond on the left is bigger. Their measurements on left are 5.65 x 5.61  vs the right 5.32 x 5.14.
NEWS FLASH! DIAMOND CLARITY IS OVERRATED!
Choose A Lower Clarity!  Si1 is the perfect grade to choose from.  You can occasionally find a great choice in SI2.  Below is an example of how you can filter different attributes like clarity and color.


click on image to view James Allen Search Methods

I suggest you leave in the slider SI2-SI1 and VS2.  The reason for leaving VS2 is there are sometimes deals happening and you may find a great find with higher clarity.  For a more expensive debate on Clarity Click Here on My Diamond Clarity Article. 
Sites like James Allen has HD 360 viewing of every diamond on their site.   You can see diamonds zoomed in by 20x-40x.  This will give you confidence in your purchase.
HERE IS AN EXAMPLE OF A 20X ZOOMED IN DIAMOND ON JAMES ALLEN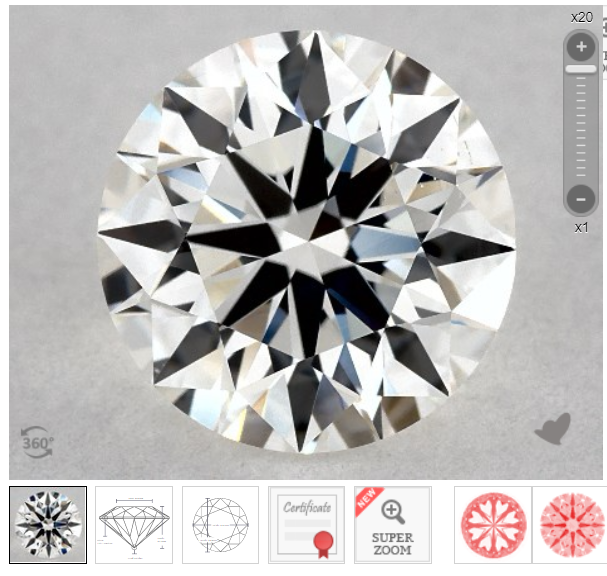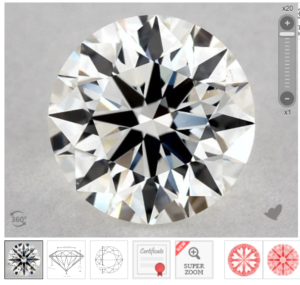 As you can see some Inclusions(diamond flaws) are white and are deeper or off centered causing them to not be as noticeable.  Further proving the point that not all SI1 Diamond grades are the same.  This is again why I only recommend vendors such as James Allen, Blue Nile & Brian Gavin that have proven track records of thousands of happy clients and real images and video of their diamonds in regular lighting magnified so you can judge and evaluate more accurately.
click on the image above to visit James Allen and learn more.
The reason why its so important to be able to clearly see a diamond.
DIAMOND COLOR
The more closely a diamond approaches colorless, the more they are valued.  As a tip found in my diamond color guide,  you will see the sweet spot for value is in between H-J color.  In terms of hierarchy in the 4 C's of Diamonds, I consider it 3rd in importance. See below for a sample chart.


A Diamond color under M is not recommended.    In the illustration below you will see samples of color. HOWEVER, when the diamond is facing up that color is harder to see.  Consequently, this is why I love that H-J color.  Again see my Color guide for tips best colors depending on what diamond shape you are buying.   See this example of a J Color Diamond mounted below.  Learn how Diamond Florescence can improve your J color diamond.
DO YOU SEE A LOT OF COLOR?
example of a J Color Diamond mounted

color chart showing color illustrations
Most noteworthy, remember Color starts from the tip of the stone towards the face.  Different shapes can affect diamond color.  A round diamond hides color very well. In contrast, when buying a Pear shape or Emerald, you must choose a higher color. See images below for an example. For recommendations per shape regarding color, visit my Color page for deeper info.
 DIAMOND CARAT


Diamond Carat is considered 4th in importance in the 4 C's of Diamonds.  Costumers usually default to this because size is easily visible to the human eye.  While color and clarity are hard to see. It's the obvious aspect that adds expense as there really isn't a way around it.  Size cost money. A 0.95 carat  vs a 1 carat diamond has a large price jump. Each fraction can make a large difference in cost.  There is no shame if your budget doesn't allow for a good quality 1 carat diamond ring.  A beautifully cut .90 or .74 can look beautiful and almost the same size as a 1 carat engagement ring.  Not to mention you have options in engagement rings like halo and double halos that add to the presence of the ring.
Click on the image below to view samples of created rings purchased by real people to get an idea of what it can look like.
Below are pages from James Allen & Blue Nile that shows you real rings created by recent customers.  This can help you get an idea of what your ring can look like.
SAMPLE IMAGES OF JAMES ALLEN RECENTLY PURCHASED.
CLICK IMAGE TO VISIT SECTION FOR IDEAS.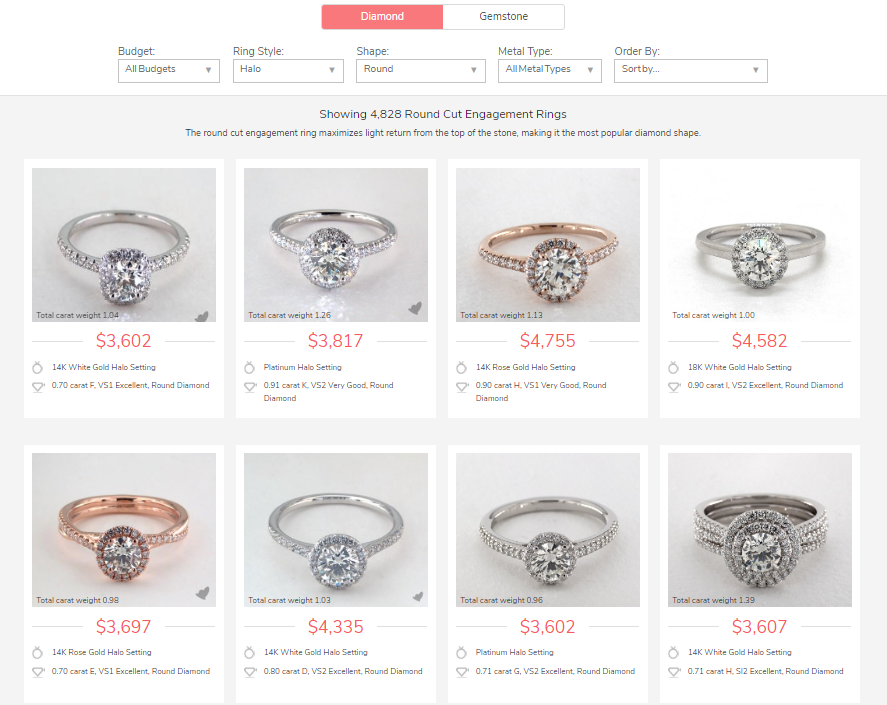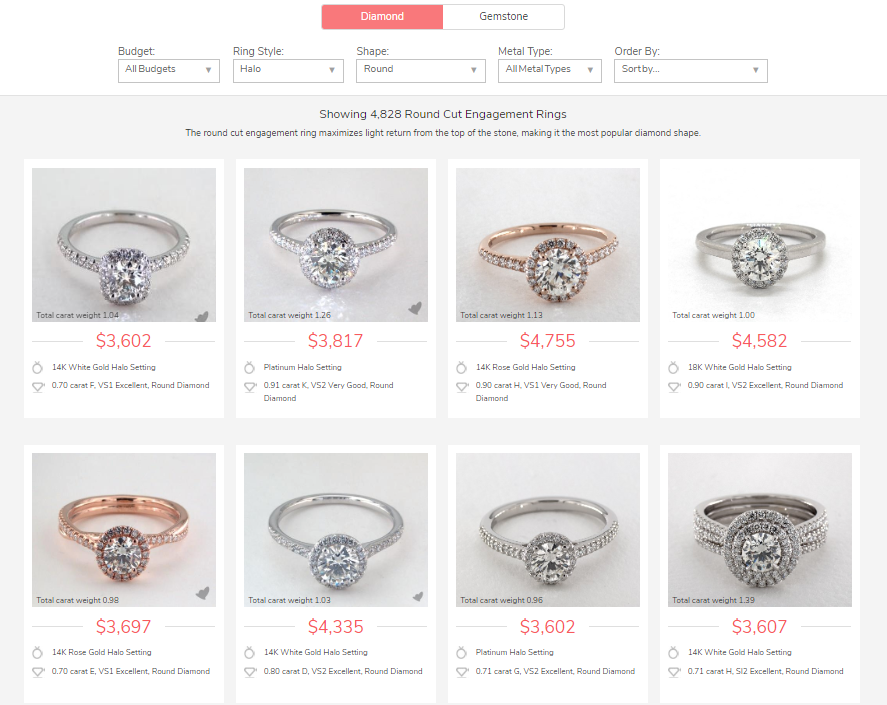 you can filter 1 carat diamond ring and different shapes and sizes
"A 1 carat diamond ring may be the average, but it's not the rule"