Bottom line recommendation:  James Allen often provides the most value and options for my clients and is my first option when shopping for my clients. 
James Allen Review
James Allen is one of the companies that revolutionized online diamond buying.  They set the standard for photography and video allowing the consumer to truly see a diamond before they purchase.  They have the largest conflict-free inventory available.  I believe over 300,000 diamonds which improve your chance of finding the best diamond available.  They have amazing ring designs, and money-back guarantees among many other factors below making them my favorite place to recommend to my clients. 
When I worked in the diamond business after 2006, clients always came to me with options from James Allen, and honestly, I could not compete.  Recently I decided to do a secret shopper video and order to show my readers what the experience is like.  I was blown away by the packaging, details, and custumer service.  The return process was a no questions asked, easy as a push of a button breeze!  
James Allen Revolutionized Diamond Viewing
As noted, they were the first company to offer 360-degree high-definition photographs of every diamond they offer.  Uncertainty was the biggest issue in buying diamonds online in the past.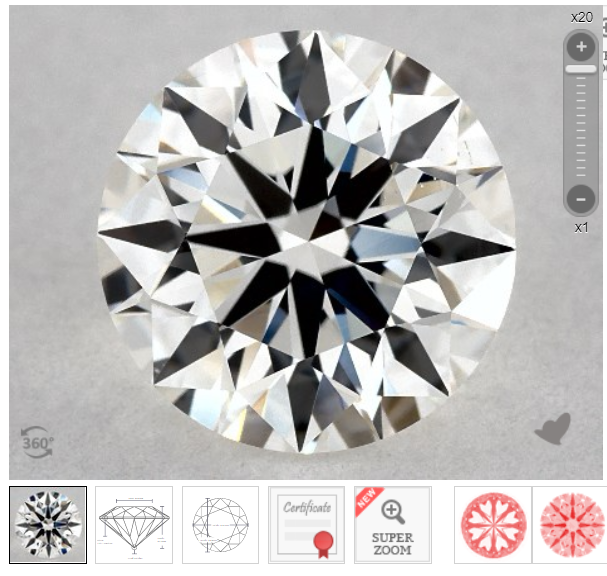 NOT ANYMORE!  This gives the consumer the power to buy confidently. If you are looking for the best bang for your buck clarity grade, this is the ideal way to view and search. SI1\SI2 are the ideal value clarity grades.  Please note that these images are so crispy, they can intimidate you. As long as the inclusion isn't massive in size and is directly on the center, they are relatively safe. 
BlueNile and other competitors have tried to compete with the diamond viewing technology but have fallen short.  This viewing technology is imperative for clarity and needed for fancy shapes as well as they are more difficult to grade. Fancy shapes are any shape other than round. EX. Princess cut, Emerald Cut, Radiant cut, etc. 
Diamond Inspiration Gallery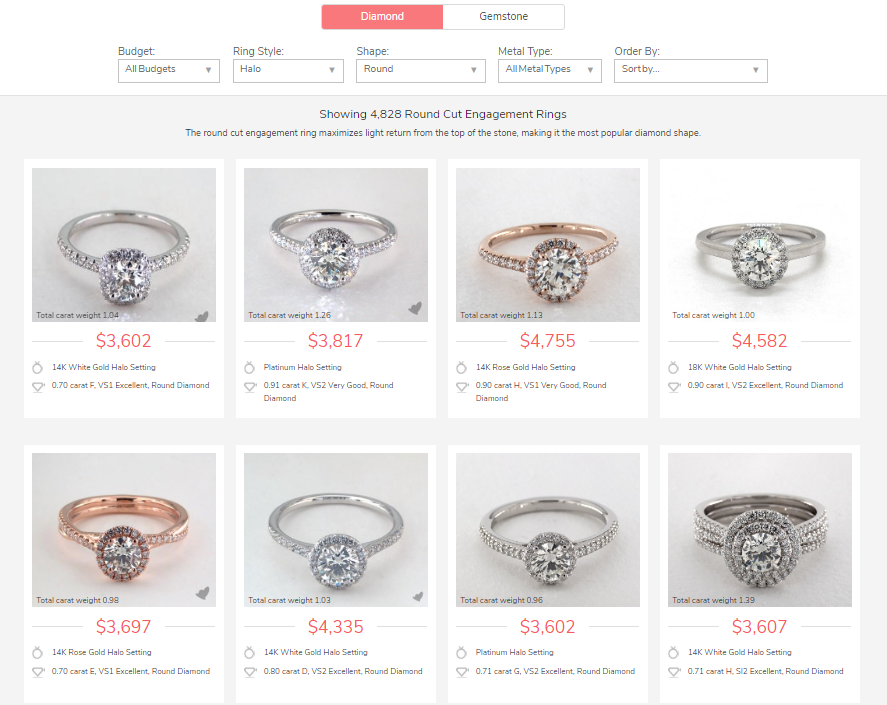 I love this section on their site. It allows my clients to view recently purchased rings which give them the ability to view carat size, shape, color and ring combinations.  Once again giving you comfort in knowing what you are buying is incredible.  It's helpful that you can filter the shape, style of ring, carat size, budget, and metal type to truly narrow down your search.
Hearts & Arrows Collection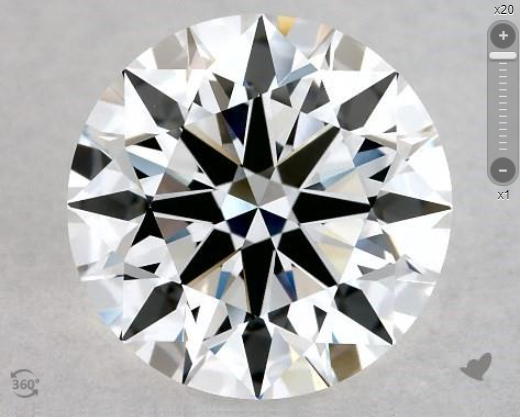 For any of my readers looking for the best cut possible, James Allen has their Hearts and Arrows True Hearts Collection.  Just visually stunning, at 20x magnified, the lines are sharp and show perfection when it comes to symmetry. 
Seen from above, a Hearts and Arrows diamond shows an arrow pattern. When displayed on its pavilion side, the diamond presents the eye with 8 hearts with tiny 'v' shapes. Genuine Hearts and Arrows have these patterns visible at a single glance, indicating that the diamond has perfect optical symmetry.
These diamonds have a small premium on them but ensure the best possible cut. 
OUTSTANDING CUSTOMER SUPPORT
I know that most of my clients see price as the main reason to buy.  But these factors below should also play a role when comparing stones from different vendors.  James Allen offers: 
30 Day Hassle-Free Returns
I tested this myself and it couldn't be truer or easier.  With a simple click of a button, your return is processed!  They even paid for the return shipping(USA only).  How awesome that there is zero risk.  This is helpful when buying a lower clarity or high fluorescence stone.  Great to know you can always buy and if unsatisfied it's an easy upgrade or return away. 
24/7 Customer support 
They are always there if you need a hand with product knowledge or technical issues. 
Free Shipping
You never have to worry as they offer shipping to the US and around the globe. Every shipment is insured giving the buyer peace of mind. 
My Personal Secret Shopper Experience
I created a video for my readers to see first hand the experience, hope you enjoy it.  
Conclusion
I have shopped many years using James Allen's website and can say with certainty that its the most well rounded, value and selection site for online diamond shopping today.  I know this site is written with so much healful information.  But please reach out to me and I will help you navigate the site and help you narrow down a selection.